What is AEFI?

The issue of vaccine injection and AEFI (Adverse Events Following Immunization) has always been hotly debated between the pro-vaccination and anti-vaccination groups. To learn more about vaccine and AEFI injections, keep reading!
According to the Malaysian pharmacovigilance vaccine guidelines (GPFK), AEFI, also known as Side Effects following vaccination, is defined by any abnormal condition that occurs after receiving a vaccine injection. It does not necessarily have to be the result of a vaccine, in fact, it can have few other different causes such as ;
1. The Overall Effect of Injections
AEFI events can occur due to fear of or pain after the injection, and may not be from the vaccine injection itself.
2. Coincidental Occurrence
For example, at the time of vaccine injection, the baby coincidentally is suffering from cough, flu or mild fever which is not due to the vaccination.
3. Operating Errors
Every immunization is handled, stored and given in an orderly and innocuous manner but errors in the preparation or handling throughout the program can cause AEFI incidents. The percentage of these incidents is very low that the risk can not be assessed.
4. Side Effects of Vaccines
Like other medicines, vaccines also have side effects. However, the percentage of serious AEFI incidents due to vaccines is very minimal.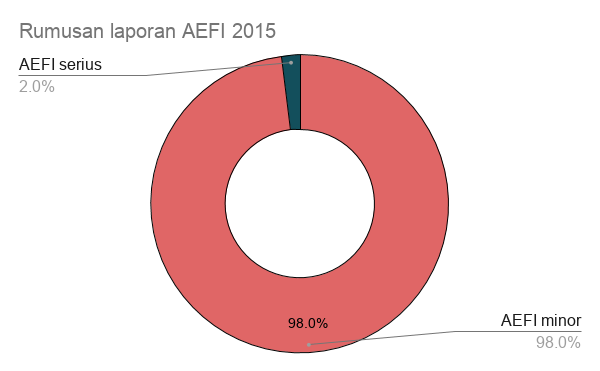 All serious AEFI reportedly have been investigated. Based on the investigation made, the following cases are due to;
AEFI not directly caused by the vaccine

The patient suffers from other ailments which can cause AEFI

AEFI which is very rare
Source: National Pharmaceutical Regulatory Agency | MADRAC Newsletter August 2016
5. Unknown
The cause of the AEFI incident is sometimes not able to be identified.
How Is AEFI Evaluated?
The majority of AEFI reported were mild, minor and cured in just a few days. AEFI events can be classified into two classes, namely common/minor AEFI effects or serious AEFI effects. 97% of the AEFI effects reported are from the common/minor class. However the second class is so minimal that the risk cannot be calculated.
1. Local Reactions - Babies affected by local reactions will experience mild AEFI signs such as pain, swelling and redness.
2. Systemic Reactions - Babies affected by systemic reactions will experience symptoms such as fever, weakness and loss of appetite and drinking.
AEFI effects occur according to the type of vaccine injected. The corresponding AEFI symptoms can usually be detected after a certain period of time post-vaccine injection. Examples of serious AEFI effects are fever and allergic reactions, as well as anaphylaxis.
Does the Ministry of Health Malaysia (MOH) Aware of AEFI?
The National Pharmaceutical Regulatory Agency (NPRA) serves to constantly monitor the safety of vaccines through AEFI reporting - this can be made clear by the public in 2 ways;
1. Notification of AEFI should be made immediately to the health staff at your health facility.
2. AEFI reporting can also be done online on the official website of the National Pharmaceutical Regulatory Agency (NPRA), however you are encouraged to consult with the health personnel involved first before making any AEFI report.
As much information as possible needs to be channeled to ensure that the report made is complete and authentic. A correct and complete telephone number or email address also needs to be included to help the NPRA receive more information from you. All information and personal information reported is confidential and will not be given to anyone without permission of the owner.
Are Vaccines Harmful?
Probability of AEFI
In 2015, according to an article published by the NPRA, only 214 cases (10 doses of mandatory vaccine) out of 6,945,644 doses injected that year were reported as AEFI cases. This amount is equivalent to 0.0031% (less than 1%).
Furthermore, the majority of cases reported are just ordinary or minor AEFI cases that can be easily treated through a specific flow chart set by the MOH, with instructions to all health personnel who might receive any AEFI report and cases.
Probability of Infectious Diseases (vaccine-preventable disease)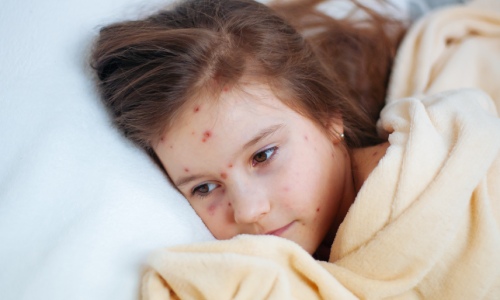 Upon further investigation, it was found out that in both cases, the patient did not receive complete immunization as prescribed by the MOH in the baby immunization schedule.
5 Myths About Vaccines You Should Not Believe!
#Vaccines are the cause of autism - WRONG
In 1998, few British doctors published an article entitled vaccines and their relationship to autism, but the article was proven to be incomplete and false. Several other authentic studies have been able to prove that there is no link between vaccines and autism.
# Vaccines cause death - WRONG
Like other medicines, vaccines also have side effects, but most of these reactions range from normal to mild and can be treated easily. The spread of 'vaccine-preventable disease' which is increasing day by day due to the negligence of taking the vaccine, has a much worse outcome.
#Injecting more than one vaccine at a time can increase the risk of AEFI - WRONG
Scientific studies show that giving more than one vaccine at a time has no adverse effects on the immune system. In fact, it can reduce injection rates, clinic visits and save time.
#Vaccines contain harmful mercury - WRONG
According to the Centers for Disease Control and Prevention (CDC), there is no evidence that the small amount of thimerosal - an organomercury compound - used in vaccines poses a risk of health problems.
#Nutritious food is enough for the baby's immunity - WRONG
Nutritious food certainly does increase the level of immunity in our body, however, the food given to a baby is not enough to strengthen their immune system enough to fight specific infections. Infections that would otherwise easily be prevented with the help of vaccines.
Conclusion

Like other medicines, vaccines have their own risks. AEFI can occur, but the probability of it is very low and in most cases, cannot be fully linked to vaccination. In fact, the increasing cases of disease due to parental negligence in not following the proper immunization schedule is far more worrying and should be used as a starting point for all society members to take pragmatic action in ensuring that every baby receives immunization as recommended. Consult your doctor to know more about vaccines!
Have doubts about vaccines? Consult our doctor for FREE!

​