How Drive Thru Testing Works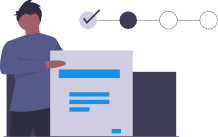 Book a slot and Register
Fill up the registration form and indicate preferred screening center and slot. Strictly no walk-in allowed.
Complete Payment
Complete payment to secure the selected screening slot. Details of the screening will be sent to you.
Visit Screening Center
Visit the designated screening center to perform the test. A doctor will explain your results within 48-72 hours.
1. Choose A Location
2. Choose Date & Time

One person per timeslot. Select multiple timeslots for more than one person. Slots must be next to each other for groups.
3. Register Your Details
Please fill in all fields below
UNSURE IF YOU HAVE TO TAKE YOUR TEST?
FREQUENTLY ASKED QUESTIONS (FAQS)
How long does it take to get the result?
Upon collection, the test result will be available within 48 - 72 hours
What is your coverage area?
Currently we are only able to serve Klang Valley, Penang, Kedah, Perak, Melaka, Johor, Sabah and Sarawak
Who should get tested?
Where can I get FREE testing?
Ministry of Health (MOH), Malaysia will only provide a free testing in authorised health facilities if you meet their criteria of testing and/or have been identified for testing
Who will be conducting the tests?
Test performed are conducted by representatives of Thomson Hospital
I need more help!
DISCLAIMER
1. All COVID-19 Screening test samples collected via home and/or corporate visit will be conducted by qualified and medically trained practitioners and personnel and are based strictly on the guidelines approved by the Ministry of Health Malaysia (MOH).
2. ALL COVID-19 Screening test samples collected will be sent to laboratory facilities approved and accredited by the MOH. For the latest list, please refer to
http://www.moh.gov.my/index.php/pages/view/kolaborasi-kkm-swasta
3. The COVID-19 Screening test is conducted are for purposes to screen possible COVID-19 infections on high-risk patients only. The outcome of the COVID-19 Screening test shall be the sole responsibility of the laboratory facilities.
Do not close or refresh this page. We are redirecting you to a payment page.
Your slot will be reserved for 15 minutes. Please complete payment to confirm your slot.