How Swab & Go Testing Works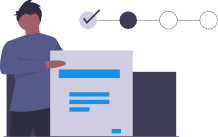 Book a slot and Register
Fill up the registration form and indicate preferred screening center and slot. Strictly no walk-in allowed.
Complete Payment
Complete payment to secure the selected screening slot. Details of the screening will be sent to you.
Visit Screening Center
Visit the designated screening center to perform the test. Receive results within 30 minutes (Rapid PCR), 48-72 hours (RT-PCR), or 24 hours (RTK-Antigen).
1. Choose Location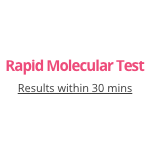 Poliklinik Mahsa @ JUC - RM550
Basement Level, Block D, Mahsa University Jalan Universiti Campus, Jalan Elmu, Off, Jln Profesor Diraja Ungku Aziz, 59100 Kuala Lumpur
Location
2. Choose your preferred Date & Time

As all centres are required to strictly adhere to social distancing within the centre, please note that the "Date & Time" selection is an indication of your preferred choice only. The actual date & time will be confirmed via email within 24 hours.
3. Register Your Details
Please fill in all fields below
UNSURE IF YOU HAVE TO TAKE YOUR TEST?
FREQUENTLY ASKED QUESTIONS (FAQS)
How long does it take to get the result?
For Rapid PCR, test results will be available within 13 minutes.
For RT-PCR, the test result will be available within 48-72 hours after sample collection.
For RTK-Antigen, the test result will be available within 24 hours after sample collection.
What is your coverage area?
Available nationwide
Who should get tested?
Where can I get FREE testing?
Ministry of Health (MOH), Malaysia will only provide a free testing in authorised health facilities if you meet their criteria of testing and/or have been identified for testing.
Who will be conducting the tests?
Tests performed are conducted by representatives of Qualitas.
I need more help!
DISCLAIMER
1. All COVID-19 Screening test samples collected via home and/or corporate visit will be conducted by qualified and medically trained practitioners and personnel and are based strictly on the guidelines approved by the Ministry of Health Malaysia (MOH).
2. All COVID-19 Screening test samples collected will be sent to laboratory facilities approved and accredited by the MOH.
3. The COVID-19 Screening test is conducted are for purposes to screen possible COVID-19 infections on high-risk patients only. The outcome of the COVID-19 Screening test shall be the sole responsibility of the laboratory facilities.
Do not close or refresh this page. We are redirecting you to a payment page.
Your slot will be reserved for 15 minutes. Please complete payment to confirm your slot.